Mama Kat posted an amazing prompt this week...10 Reasons I Could Never Be Friends With...Insert Name Here. I couldn't really think of just one person, so I decided to do a few reasons for a few people.
#5-MILEY CYRUS
I don't really like anything about her, but for the sake of the prompt, I'll be more specific.
She was only a child but managed to dress like a 30 year old hooker.
#4-SNOOKI
She's shorter than me (which is freakishly short), but she's taller than me due to the hair that undoubtedly will survive the apocalypse.
#3-ADAM LAMBERT
He wears more make-up than I do. Enough said.
#2- TOM CRUISE
I just can't escape the couch-jumping.
#1-WILL FERRELL
I love Will Ferrell movies. I couldn't be friends with him, though.
1. Every time we were together, I would request "more cowbell."
2. I would mistake him for the creepy hobo down the street.
3. He's got some stomach issues...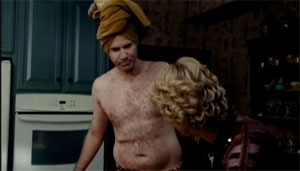 4. He wears tights...unapologetically.
5. His mustache intimidates me.
These people are all DYING to meet me, though. I'm just that irresistible.